How it Works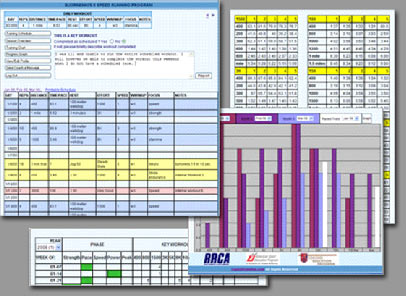 From the administration panel, Coaches can add users, group runners, see when training plans are due, keep track of forms, parent slips, equipment, and fees/renewals. For more control over ongoing documents and up-to-date race results, the handout upload tool enables the coach to upload and sort documents for easy team access. Upgraded packages include a Coaches Contacts Organizer with quick email functionality as well as an athlete archive button to place injured, graduated, or inactive runners on an inactive list to exclude them from scheduling and to give the coach a quick one-sheet of active runners. With a simple click, the coach can reinstate any runners to the active list.
Whether you choose the FREE CORE Solutions Package or upgraded options, the Custom-Branded Team pages will save teams, coaches and runners hours a week on admin, logging, and desk time so more time is spent working toward personal records, big teams, or key road races.
Today's fast-paced environment calls for a second meeting place outside the track or locker room. For club coaches, you finally have a locker room with Runningteams.com. The coach's bulletin board gives everyone just that along with a team/group schedule and a message center for all athletes and coaches. Enhanced and Premium packages include a team forum where everybody can post, contribute, and stay engaged. With the multi-media tool, coaches can embed training and motivational videos into their Team Pages. You can even upload your teamís races online.
Runningteams.com keeps you connected before and after races and workouts, on the weekends, and during the summer. In a few minutes a day, your team pages are continuously and easily updated by coaches and runners. This link is vital for any coach/athlete partnership, as communication is one of the most important aspects in proper training and timely feedback.
With team season meet/event scheduler, coaches schedule the races, key workouts and events and later enter the results for all to view. With individual season overviews, coaches keep track of each runnerís training plans, key workouts, time trials, and races so you can break down a big goal into smaller goals. These periodization tools build consistent training, momentum, and proper peaking and help minimize injuries and maximizes personal bests.
Schedule team, group, and individual workouts that you can post online. All packages allow coaches to create and save their favorite workouts for quick future scheduling. You can print and post in the locker room and runners also have easy and private access from any computer with internet access.
The enhanced and premiere versions have 100s of preloaded workouts to choose from to save you even more time and energy. Unlike templates, the pace calculator downloads into the schedule workouts designed specifically for each runner. Whether training for strength, speed, stamina, endurance, economy, power, or simply recovering or tapering, the scheduling tool makes life simple while providing runners the perfect pace for the specific training day.
During off season, school coaches will receive alerts when a workout wasn't completed as scheduled. This aids in runner accountability and allows you to quickly adjust the off season workouts if need be. During the season, athletes, coaches and assistant coaches all have the option to update runnersí daily completed workouts. Runningteams.com gives you as much or as little control as you want out of the program and delivers the information you need to minimize injuries, maximize consistency, and produce personal bests.
For club and organization coaches, your runners will utilize their personalized training schedule and highlighted daily workout by giving instant feedback on their workouts in literally seconds a day. This saves runners time in reporting and gives the coach all the information he or she needs to check in and see how the athletes are progressing.
All programs allow coaches to easily customize their team pages and team rosters. Match team colors, upload the team logo and highlight team accomplishments/season goals to keep your team focused and working together. All runners can view the individual results page to track their own and their teammatesí race results. Coaches can set up the All-Time Team Records page so everyone knows the highest team benchmarks to aim for.
With the enhanced and premiere versions, each runner has their own social page where teammates can share videos, music, pictures, interests, blog and post messages, meet friends and rivals. Having a social networking page within the team injects more fun into the training and keeps the runners connected and engaged. For school teams, imagine how you can team-build even during the summer with this integrated tool.
Derived from a single input from each runner's personal best time, the pace calculator assigns appropriate workout and race paces for each individual. This tool enables enhanced and premium subscribers to quickly assign athletes to groups tailored to their specific levels of experience and skill. Whether you need a strength, tempo, multi-pace, or interval workout, the workout charts instantly create hundreds of customized workouts for each group or individual that you later use to schedule key workouts with a single click of the mouse.
Runningteams.com helps you see where runners started, where they are now, and where they are going in terms of specific times on specific training and race distances. This also helps everyone understand what the coaches are trying to accomplish and how they will work with runners to go about building momentum in their training. These tools all come together so no one has to wait until race day to know how training is progressing.
Once a workout is completed, the scheduled workout, the actual workout completed, miles, time spent, energy level, and any notes runner or coach made is automatically downloaded into each athlete's running log on a daily basis. A complete record of training is invaluable when going back and analyzing highs and lows of the season.
A goal must not only be attainable, it must be measurable. Runningteams.com gives coaches unparalleled methodology to quantify the training and racing season. With the core mileage graph, runners and coaches can get a quick visual overview of training throughout the season or 52 weeks a year. The enhanced package adds time and energy graphs to compare with the mileage graph, displaying total time a team or runner is putting in as well their energy level week over week. The premiere package includes the progress graph where coaches and runners can compare month over month results to see real progress. This graph also identifies areas of strength and areas of needed improvement. This results in greater motivation for the runners and gives coaches yet another tool to gauge runner response to the training and to tweak the plan if necessary.
Runningteams.com was created for the coach by a coach and provides a package suited for your teamís particular situation. Runningteams.com provides the new coach managing his first team all the tools to step in with confidence and lead the team from day one. For seasoned coaches who like their own method, Runningteams.com provides them supplemental tools that will undoubtedly save them time and organize their sometimes chaotic world. If one can type on a keyboard, one can use this patent pending technology that merges with old school gut instincts. In addition, it will help all coaches identify with the new generation of runners who live and breathe on the web.
Runningteams.com - Gives coaches and runners more than an edge, it gives them the web.
To compare packages, please see Packages